Cost Accounting¶
This page displays Orion cost accounting information.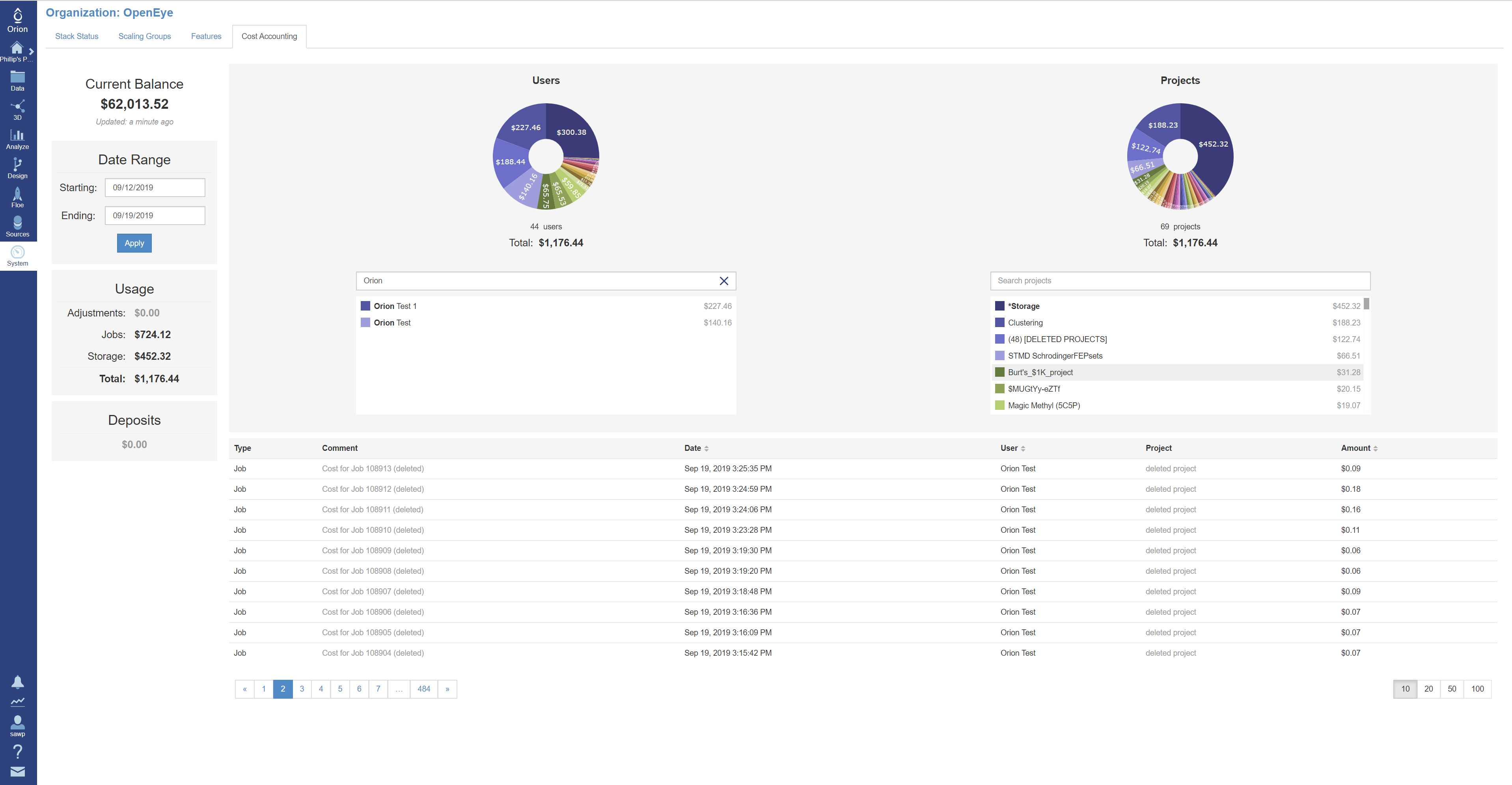 The Cost Accounting subpage shows an organization's current running balance, estimated total costs, estimated user and project cost breakdowns in charts, and a ledger. Categories on charts can be seen by moving the mouse cursor onto different parts of the graph.
Hint
Individual user and project names have been grayed out.
Current Balance¶
This displays the current estimated running balance of this Orion account after subtracting Total Costs and adjusting for any credits.
Date Range¶
This allows users to select the date range for displaying Total Costs and Credits. The default date range is 7 days.
AWS Total Costs¶
The Total Costs table shows the estimated AWS costs for the date range selected and is broken down into the following categories:
¶

| Name | Description | Example Cost |
| --- | --- | --- |
| Adjustments | Orion organization admin added expense. Usually added to reconcile actual cost versus estimated cost. | $13,790.47 |
| AWS Costs | Expenses incurred by primary components of the stack, ancillary services, and AWS support fees and taxes. | $1,337.39 |
| Jobs | Total user Job costs on EC2 compute servers. | $2,711.66 |
| Storage Costs | Per-user and bulk storage expense. Includes storage costs for collections, datasets, files, and temporary files. | $612.78 |
| Total | The sum of all expenses. | $18,452.30 |
| Credits | Orion organization admin added funds. | $1,000.34 |
It is not possible to directly compare the AWS Costs breakdown with Jobs because the latter only includes EC2 (compute servers) costs directly owned by a job. Orion's webservers, RDS, and other services such as FastROCS, MMDS, and Magpie contribute constant costs not directly attributable to any one user. These costs are lumped together under AWS Costs. The remainder of the cost, Storage Costs, after subtracting Jobs and AWS Costs, is attributable to S3 bulk storage. 1
Monthly Primary Components Costs¶
The table below shows typical costs for the primary componets of a stack.
¶

| Component | On demand ($) | Reserved Instance ($) |
| --- | --- | --- |
| Orion | 1,700 | 1,000 |
| FastROCS | 1,800 | 1,200 |
| MMDS | 700 | 400 |
| Magpie | 900 | 500 |
| Subtotal | 5,100 | 3,100 |
| Total | 5,900 | 3,600 |
The Monthly Primary Components of a Stack Costs table assumes a 31 day month and rounds up to the nearest $100. Reserved instance price is amortized hourly, taking into account partial upfront payment, which would be paid upfront for 12 months. The total also includes 10% AWS support and 4% tax. 1
AWS Services¶
Below is a table of AWS Services used by Orion with links to pricing information.
¶

Name

Expense Type

Description

CloudTrail

infrastructure

CloudWatch

infrastructure

EBS

stack

Each EC2 instance attaches one or more EBS volumes $0.10 / GB / month

Typically $13 / instance / month

EC2

stack

See Jobs

RDS

stack

Minimum of two db.r5.large instances for Orion $100s / month 1

S3

stack

$0.023 / GB / month 1

SQS

stack

Dependent on number and size of work items for jobs

$100s / month

VPC

infrastructure
Jobs¶
The job charts are categorized by user or project.
Job costs account for the majority of the EC2 (compute servers) portion of the costs seen in the AWS Cost Breakdown. In the example above, the total estimated cost of jobs is $2,711.66.
Ledger Entries¶
Orion attempts to simplify AWS bills. It estimates an organization's current balance before AWS bills are generated, and allocates costs to users, projects, and organizations. An AWS cost import is triggered multiple times a day. Even if Orion is not used for a period of time, a cost is incurred for running its web servers, relational database, etc.
At the end of each job, Orion estimates its cost and adds an entry to the organization ledger. Estimates are used because the real price is not known until sometime after the job is finished. Later, the actual bill from AWS is used to validate and correct each job estimate.
Storage ledger entries are added periodically on a per-user basis. These are calculated by summing the sizes of collections, datasets, files, and other objects stored in S3 on behalf of users.
Ledger entries include OpenEye's markup.
¶

Name

Description

Credit

Admin added funds

Adjustment

Admin added expense

Storage

Per-user incremental storage expense

Job

Per-job EC2 expense

AWS

Unassigned AWS overhead expense

Automated import from AWS Base infrastructure costs (e.g., pilot light)
Caveats¶
AWS bills are service-oriented and are generated multiple times a day. Orion attempts to break down costs according to users, jobs, etc. However, the mismatch between what is provided in the bill and what is desired by an Orion end-user means that there is not always a one-to-one correspondence between an expense and a user's action. For instance, EC2 costs are largely driven by user jobs, but there are many behind-the-scenes tasks being run on behalf of one or more users. Therefore, job costs will not add up to the total EC2 costs.
Expenses are rounded down to two decimal places. This may cause the sum of broken down costs to not sum up to the total for a category.