OEMMFF
Attention
This API is currently available in C++ and Python.
class

 

OEMMFF

 

:

 

public

 

OEMolPotential

::

OEGenericFF2



The OEMMFF class facilitates creation of an instance of a partial or full MMFF94 or MMFF94s force field. In addition, a force field instance can be extended by adding externally defined potential functions.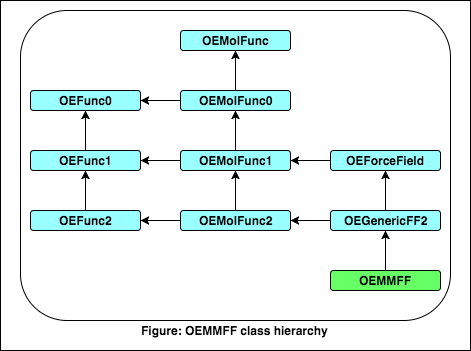 Constructors
OEMMFF

(

bool

 

mmff94s

=

false

,

 

unsigned

 

int

 

terms

=

OEFuncType

::

All

)



Default and copy constructors.
The first constructor argument specifies whether the 94s variant of the force field is to be used. By default, the regular variant of MMFF94 force field object is built. The second argument allows selection of the components of the force field to be used. By default, a full force field implementation is constructed. Individual components may be selected by passing an integer composed of values in the OEFuncType namespace by bitwise or operation.